What can they do together? A cross-disciplinary experiential learning to improve the quality of life in rural areas – Ryan Wong and Jessie Chow
Project Mingde is a charity project to build schools and facilities in underprivileged areas initiated by the Department of Civil Engineering. It aims to provide education opportunities for children in impoverished villages or disastrous areas and to let the university students contribute their skills and knowledge to the society. Project Mingde has completed six construction projects since 2005, in which more than 350 university students have been involved.
In the last summer, Project Mindge collaborated with the Faculty of Social Sciences and World Vision Vietnam to build a one-storey high library at Cuong Chinh Secondary School. The new library will be crucial to promote the reading habit and literacy of the students. This experiential learning project is funded by the Gallant Ho Experiential Learning Centre, which involved 13 Civil Engineering and 7 Social Sciences students. The programme began with core workshops in early June 2016, which enabled students from both disciplines to understand cross-cultural differences and learn about the various development models used to support local communities in rural areas. The seven-week experiential learning took place in Vietnam under the supervision of the local project management office of World Vision Vietnam.
The students worked as a team to assist in the construction work and monitor the construction progress. They gained knowledge on construction techniques that they have never learnt before in formal lectures. An inauguration and handover ceremony was held on 26 July 2016. About 350 local schoolchildren benefit from this new library and thereby have improved their reading habit. In addition, they also participated in World Vision local research projects of conducting needs assessments in nearby communes. They analysed the problems of health, education, livelihood, capacity building, and child issues. They discussed with the local people on what they needed and what problems or facilities they thought requiring improvements. They also conducted a comprehensive study on reading habit of the local children and evaluated the Wash, Sanitation and Health (WASH) situation of the secondary school where we built a toilet in 2015 summer.
Upon completion of the programme, our students shared their experiences at World Vision Hong Kong Office. The programme is expected to be the start of a long-term partnership between World Vision Vietnam and The University of Hong Kong. As the project will continue next year, the impacts that the project has generated will accumulate and be sustained. The project will create more diverse learning opportunities for our students.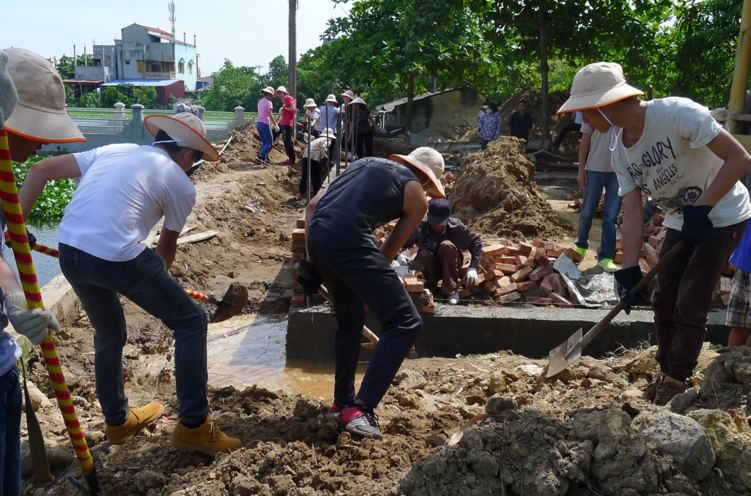 Students helped the local construction workers for ground excavation.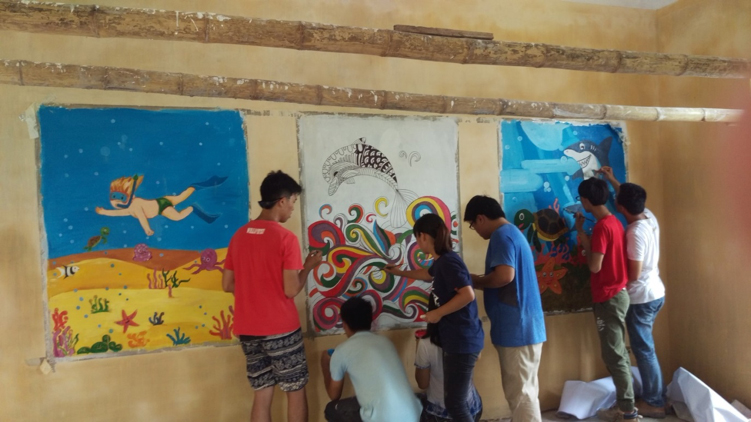 Indoor library decoration to draw five pictures on the wall using acrylic paint.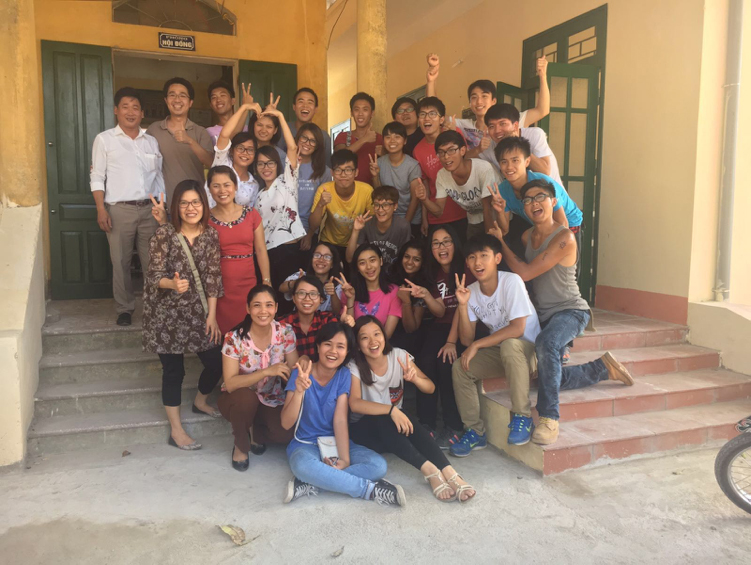 Group photo of participated teachers, students, translators, and local partners.
List of participants: Project Coordinators
Dr. Ryan CP Wong (Civil Engineering)
Ms. Jessie ML Chow (Social Sciences)
Students from Department of Civil Engineering
CHAN Chau Wong Andy, CHAN Wing Chun Bill, CHU Ka Fung Kelvin, FONG Chun Wai William, KWONG Yiu Choi Kent, LING Kin Lam Catherine, NG Kei On Martin, SHEUNG Chin Ching Macro, TSE Hoi Yan Vicky, WONG Chun Kit Philip, WONG Shek Wan Victor, YEUNG Bozco Yik Chun, YU Chung Yin James
Students from Faculty of Social Sciences
Dolly Nawalkha, LI Po Kwan Bonnie, NG Wai Pan Bun, WEN Hui Rong Ariel, WONG Ka Yi Tiffany, YEUNG Oriana Hay Tung, YUEN Baty
Acknowledgements
This is a collaborative project between Department of Civil Engineering and Faculty of Social Sciences funded by Gallant Ho Experiential Learning Centre. The two coordinators are Dr. Ryan CP Wong (Civil Engineering) and Ms. Jessie ML Chow (Social Sciences).