Adapting an international EL research project-based course for an age without travel – Peter J. Cobb, Agnes Sung
We conduct archaeological fieldwork in the South Caucasus to investigate the ancient past of southwest Asia (aka the Ancient Near East). Our project, the Ararat Plan Southeast Archaeological Project (APSAP), is directed by Dr. Peter J. Cobb, Assistant Professor in the Faculties of Education and Arts of HKU with assistant director Dr. Elvan Cobb, Assistant Professor in History at HKBU, in collaboration with Artur Petrosyan and Boris Gasparyan of the Institute of Archaeology and Ethnography at the National Academy of Sciences of Armenia. This is the very first time that HKU has participated in a major archaeological excavation in ancient southwest Asia. We aim to utilize various archaeological methods such as surface surveys, architectural documentation, and excavation to illuminate the everyday life of the region, and better understand the changing dynamics of mobility, infrastructure, trade, and political control through the past.
The APSAP project began in 2019 when six HKU students volunteered to join the fieldwork for two months in Armenia, together with international team members. The team unearthed important pieces of ceramics, animal bones, and fortress walls. As a result of their special experience, a new Experiential Learning (EL) course was created called BBED6796 (Cultural Heritage and Information in the Field) in the Faculty of Education. The course intends to introduce foundational archaeological and cultural heritage theories and methods together with a basic outline of the past of ancient southwest Asia. According to the original plan, students would carry out digital humanities exercises such as creating 3D models during semester 2, and excavate in Armenia for one month during the summer. We intended to run this course for the first time during the summer of 2020 but were stymied when travel was finally suspended in April 2020. We then promised the students that if they re-registered for the 2020-2021 academic year, they would probably be able to travel to Armenia in the summer of 2021 instead! Well, that did not work out as planned…
This EL course has two main topics as reflected in the course title—dealing with the cultural heritage, i.e., the archaeology itself, but also dealing with the information science aspect of fieldwork—the digital methods. This second aspect turned out quite straightforward to carry out without travel during the changing situations in both 2020 and 2021. And we also found creative ways to teach the students about cultural heritage each summer.
During the summer of 2020, when all travel was somewhat restricted, the course was moved entirely online with the six students who remained registered. These HKU students were joined by students from the University of Pennsylvania who had intended to travel to Armenia as well but took the course to offer help with the research remotely. During the 2020 course, students learned about archaeology, engaged in debates, and gave presentations about cultural heritage. At the same time, they learned a variety of digital humanities skills to help with the data processing of the artifacts and information collected by the field team during the 2019 summer season. Students were able to work on different tasks such as 3D modelling and creating ceramics databases, and each student undertook a small research investigation about some objects from the 2019 season that led to a public blog post (https://openarchaeology.org/armenia/2020). This allowed the students to truly become familiar with the research process. Out of this course, two research posters about the APSAP project were accepted to the Archaeological Institute of America's annual meeting in January 2021. The second author of this article, undergraduate student Agnes Sung, conducted some incredible research on a unique Medieval seal impression from the site.
This year (2021), the course was again not allowed to include travel, however this time we were able to meet face-to-face in Hong Kong. In May, students carried out digital humanities exercises, namely building 3d models of Mesopotamian sites, using Google Earth to map potential sites in Armenia, and creating pottery databases with comparative material from the south Caucasus. Students learned about archaeology of these places remotely and gained essential skills for digital humanities projects. A new aspect to this course in 2021 was our ability to take the course on field trips here in Hong Kong, to see local sites of archaeological and cultural heritage significance! All of the activities were arranged by Agnes Sung who served as the teaching assistant for the course based on her experience of taking it last year. These trips helped the students connect what they learned online with real archaeology. Our seven field trips in June included: the Preservation and Conservation Division, HKU Libraries; Ma Wan; Sha Lo Tung; Wun Yiu; a VR Experience at the HKU Main Library; Sheung Yiu; and Lamma Island. In person, students learned better about the physical processes of archaeology such as using a surface survey to find sites and artifacts and the importance of context and stratigraphy. Plus, they seemed to have fun, even if we did a lot of hiking in the rain or heat+humidity!
We believe that although BBED6796 has not yet occurred as originally planned, we were able to quickly and successfully adapt this international EL course to an online/local version. The online environment enabled the HKU students to learn important digital skills while still gaining international experience through contact with other team members. The local field trips allowed them to gain hands-on experience and learn about the research process. Thus, the learning goals for the course were still achievable, though we do hope to return with the course to Armenia in 2022!
We would like to express our gratitude to the guests and colleagues who lead the trips:
Ms. Jody Beenk (Previous Head of PCD, HKU Libraries)
Dr. Ben Iaquinto (Assistant Professor, Faculty of Social Sciences, HKU)
Mr. Maxime Decaudin (Assistant Lecturer, Division of Landscape Architecture, Faculty of Architecture, HKU)
Ms. Yadian Wang (Teaching Assistant, Division of Landscape Architecture, Faculty of Architecture, HKU)
Mr. Zichen Bai (MPhil, Faculty of Education, HKU)
Mr. Leo Wong (Assistant Librarian, Lending Services and Learning Environments, HKU Libraries)
Ms. Tullia Fraser (Project Associate, University Museum and Art Gallery, HKU)
Ms. Agnes Sung (BBED6796 Teaching Assistant, Faculty of Education, HKU)
Learning about the importance of drones and other technologies in archaeological research

Our final trip group photo at Lamma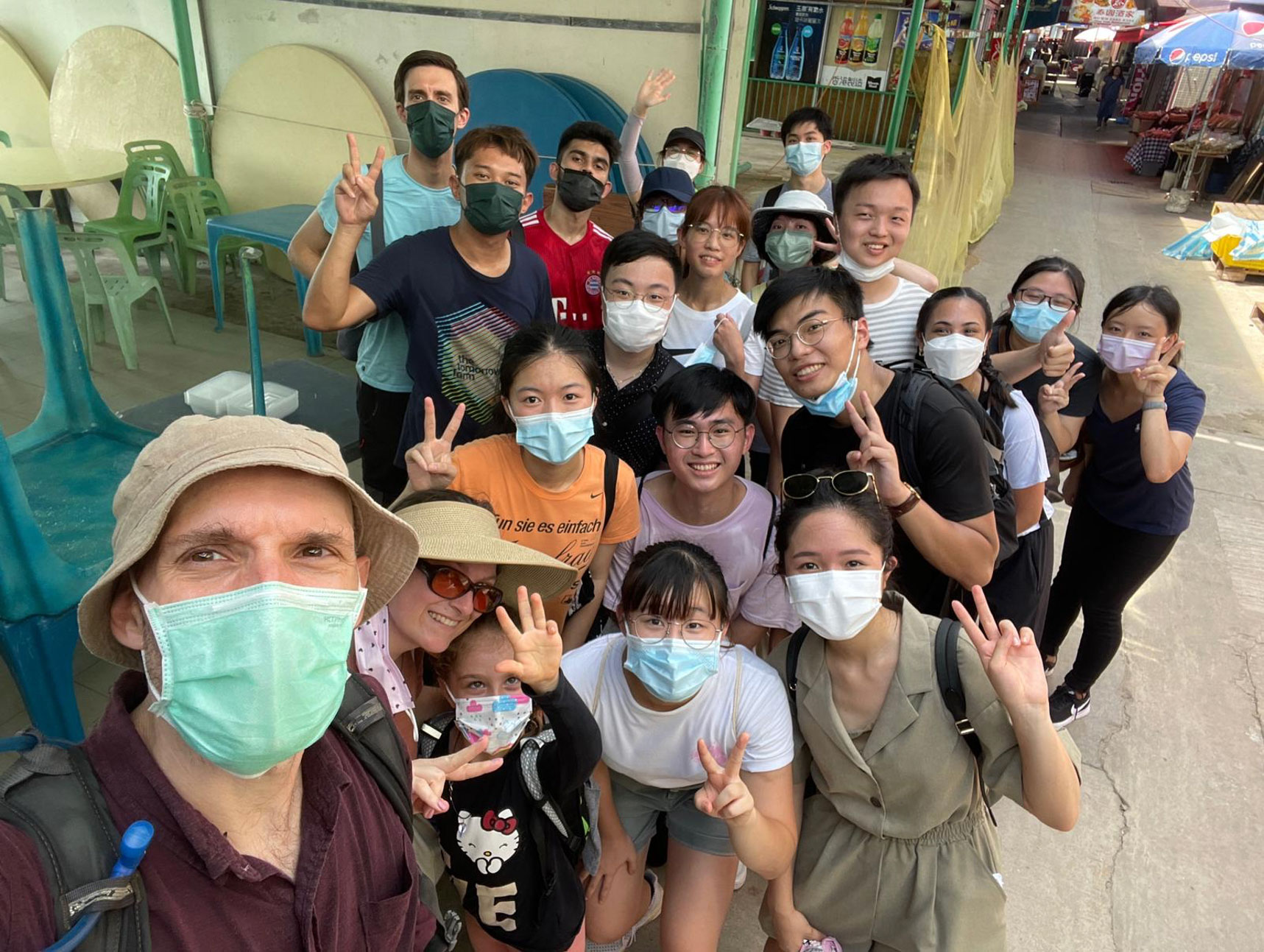 Archaeology and VR, HKU Main Library

kiln site, Wun Yiu

Object Handling Workshop at Sheung Yiu

Please cite as: Cobb, P. J., & Sung, A. (2021, Aug). Transforming teaching and learning through a discipline-based community of practice. Teaching and Learning Connections, 15. Retrieved from https://www.cetl.hku.hk/teaching-learning-cop/adapting-an-international-el-research-project-based-course/