Teaching Innovation Award (Team)

Team photo of Ashley Scott Kelly (left) and Xiaoxuan Lu (right) during student presentations for "Strategic Landscape Planning for the Greater Mekong"
Mr. Ashley S. Kelly (Leader) and Dr. Xiaoxuan Lu of Faculty of Architecture for Strategic Landscape Planning for the Greater Mekong

To cultivate more strategic professional planning practices, our students simultaneously learn technical and critical theory approaches from other fields. This is not for them to conduct basic research in those fields but instead to teach students where to find the generative dissonance that comes from synthesizing diverse sources of knowledge and perspectives on the environment.
HKU Bachelor of Arts in Landscape Studies students at Bubeng Field Station for Tropical Rainforest Ecosystem Studies, Chinese Academy of Sciences, Yunnan. Photo by Ashley Scott Kelly, 2019.
HKU Bachelor of Arts in Landscape Studies students meet Laos civil society in forum co-organized between HKU and the Land Information Working Group in Vientiane, Laos. Photo by Kwok Kam Man, 2018.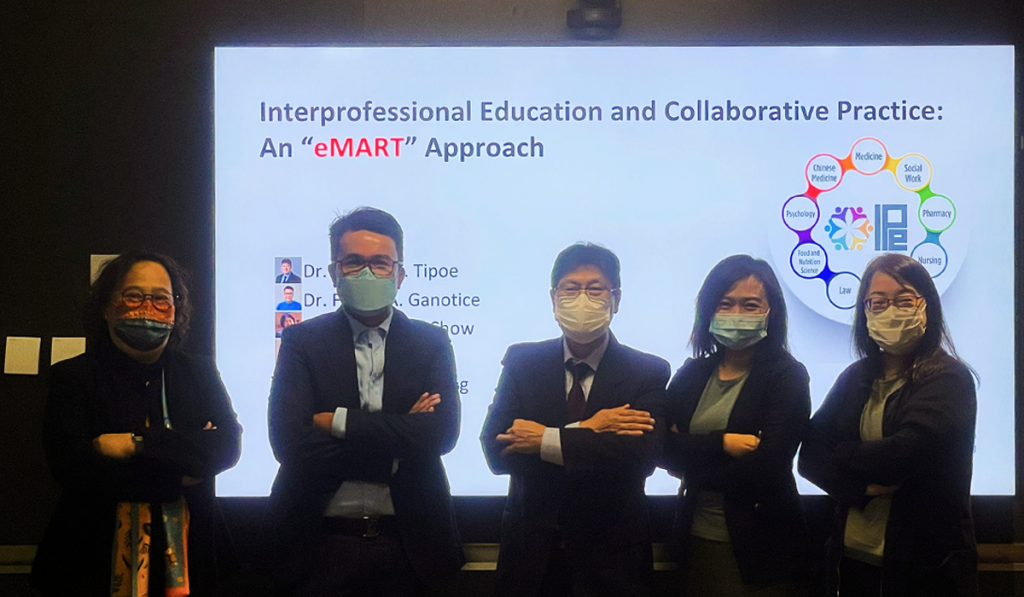 IPECP TEAM won the "Teaching Innovation Award" in 2021, the University of Hong Kong.
Dr. George L. Tipoe (Leader) of Li Ka Shing Faculty of Medicine, Professor Amy Y.M. Chow of Faculty of Social Sciences, Dr. Fraide Jr. A. Ganotice, Dr. May P.S. Lam and Dr. Janet Y.H. Wong of Li Ka Shing Faculty of Medicine for Interprofessional Education and Collaborative Practice – an "eMART" Approach

Collaboration drives innovation. When professionals work in alliance, new solutions that transform practice emerge. Using team-based case-oriented discussion, it provides students from different disciplines to learn about, from, and with one another.
1,644 annual average number of students involved in the programme: It is the culminating activity where the teams and content expert meet in a large lecture theatre. (2020)